Psychology- Radiology partnership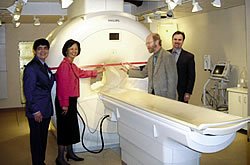 Kenneth Maravilla, Director MR
Research Labaratory,
Provost Phyilis Wise, Steve Buck,
Psychology Chair, and Norman
Beauchamp, Radiology Chair
Functional magnetic resonance imaging of the human brain plays a key role in research on many facets of human neuroscience. Thus, we're delighted that a new research-dedicated Philips 3-Tesla magnetic-resonance imaging scanner to carry out this research was installed on campus over the summer.
The scanner will be jointly managed by Radiology and Psychology and is partially supported by a $2M NSF grant awarded to UW Psychology. The dedication ceremonies for the new scanner featured a half-day scientific seminar, co-organized by Associate Professor Geoff Boynton, with talks by faculty from UW Psychology (Assistant Professor Scott Murray) and Radiology and distinguished visitors (Drs. Gary Glover, Stanford, and Richard Buxton, UCSD).
The opening reception (see photo) was attended by Deans of the School of Medicine and the College of Arts & Sciences and UW Provost Phyllis Wise. Geoff Boynton and Scott Murray have also taken the lead in shared management and user groups.
A training program consisting of tutorials, workshops, seminars, and outside speakers is being put in place. And Psychology and Radiology have jointly established an Innovation Fund with a goal of $1M in funding to increase the quality and quantity of neuroimaging research by both new and established investigators here at UW.
Assistant Professor Ione Fine has organized a two-quarter class to provide background in use of fMRI for new faculty and student researchers in Psychology and across campus.