Research training put to work for children in Ethiopia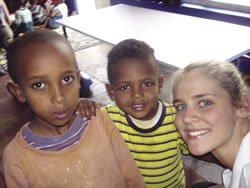 Susan Holmgren first went to Ethiopia in 2006, after finishing her psychology BS and a Masters degree in social work. "It was AMAZING!" remembers Susan, "I loved the food, language, culture, people, and especially the kids…they were all so beautiful!" Susan had long hoped to work in adoption and social work with children. As an undergraduate, she worked with Associate Professor Liliana Lengua, from whom she acquired a passion for research and how it can be applied in practice and in policy advocacy. Susan started working for Adoption Advocates International shortly before going to Ethiopia. That organization helps orphaned children from Ethiopia and other countries by facilitating adoptions in the US and by running sponsorship programs for children who remain in those countries.
"Thankfully, our director recognizes that international adoption cannot meet the needs of all the orphaned children in Ethiopia and therefore has developed sponsorship programs to serve those children who are able to live with extended family members and neighbors while they continue their schooling," says Susan. "Although I am pleased to be working in adoption, in some ways I am more passionate about the sponsorship programs than the actual adoptions! I made home visits to kids enrolled in each of our sponsorship programs and it was amazing to see the difference the sponsorship makes."
Susan says that her research training with Professor Lengua has helped in the methods she uses to seek out information for her adoption and sponsorship work. The results of these investigations provide information that is important for the cases of specific children, but also help inform how policy should be shaped to aid many other children and families. "UW was amazing! Psychology students have such great opportunities," observes Susan.
Susan is now working to expand the sponsorship programs in Ethiopia to include a wider range of social and psychological support services and to extend these to children in more remote, unserved locations. More information about Adoption Advocates International, which is based in Port Townsend, can be found at www.adoptionadvocates.org. n