Living the Fairytale - Peter Kithene
What are some elements of a classic fairytale? There may be monsters to slay. There may be magic afoot. And, surely, there must be a hero. Native Kenyan and UW psychology alumnus Peter Kithene (BA, 2007), is living the role of the hero in a fairytale of his own making. The monsters are poverty and disease. The magic—perhaps 98% hard work and vision, and 2% serendipity. Last fall, Peter was one of six people chosen as CNN Heroes. "The event was like a fairytale," says Peter, remembering the internationally televised award ceremony where he received a$25,000 award for his work building a health clinic in western Kenya. (Peter had previously won $10,000 as a Heroes finalist." )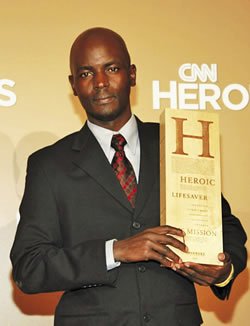 Peter Kithene
The , which Peter founded while still an undergraduate psychology major, focuses on serving widows and orphans in poverty-stricken and disease ravaged rural Kenya. Now a first-year graduate student in the UW School of Public Health, Peter splits his time between Kenya and Seattle, directing the work of the clinic and pursuing a Master's degree in public health. It's a delicate balance, made possible by Peter's drive and determination and the love and support of his wife Katrina and 16-month old son Matho (who he calls Simba). Eased, perhaps, by the CNN Heroes award and the influx of good wishes and donations it has brought.
Thinking about how his life has changed following the CNN award, Peter reflects that people treat him differently, "but in a good way," he says. "Also," he adds, "you become more responsible." Humble words from a young man who emerged from a childhood marked by the loss of six young siblings and the deaths of both parents when he was twelve, to travel across the world and study psychology at the UW. Why psychology? "I came from a background where none of my peers moved beyond where we were," explains Peter. "I wondered—where does this drive I feel come from? Where does the hope come from, and how do I instill that in others?" Peter believes that his study of psychology has helped him to answer some of these questions.
Peter plans to develop a network of "the best healthcare delivery systems in rural Africa," and to provide leadership in the healthcare field. The CNN award has given Peter international exposure and the opportunity to bring his message of inspiration to a wide-ranging audience. While the vision and drive were clearly part of Peter's basic character, he credits his study of psychology for giving him skills to help realize some of his dreams. Remembering classes that were foundational for him—especially as a person coming from a background different than that of most U.S. college students—Peter credits Psychology 250 (Racism and Minority Groups) and 345 (Social Psychology) with giving him the tools to survive. And, don't forget Psychology 315… "My statistics class in psychology is so helpful!" As a new graduate student, Peter says that Psychology 315 has given him an edge over many of his fellow students.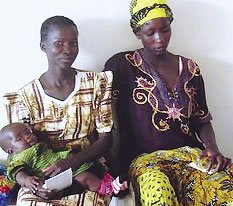 Clinic Patients
Having already achieved more than an ordinary lifetime's worth of accomplishments, Peter is clearly living an extraordinary life. Recently asked to be a guest speaker at a fundraising concert in Boston for the group VUMA-Kenya, Peter was honored. Upon receiving the invitation, he demurred, saying that he just wanted to be there "as a Kenyan." The response came… "No—you are a leader now." Words that may take some getting used to, but that Peter is surely to hear for a long time to come. The hero's charge, in the fairytale story of Peter Kithene. To learn more about the Mama Maria Clinic and find out how you can help, visit www.mamamaria.org.