Graduate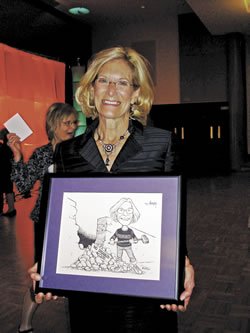 Sharon Ramey
Sharon Ramey, a 1974 Ph.D. graduate of UW Psychology, was honored by the College of Arts & Sciences as the 2007 Distinguished Alumna for Natural Sciences. Sharon is Professor of Child and Family Studies at Georgetown University and founding director of the Georgetown Center on Health and Education.
Sharon began her lifelong commitment to disabled and disadvantaged people as a graduate student in the Developmental Area of UW Psychology, with Gene Sackett as her advisor. Her subsequent research has received international attention and provided scientific support for revamping service delivery systems to mentally retarded and disabled populations. For more than 30 years, she has been a pivotal figure in the study of child development, working on issues such as the sociology and economics of poverty, juvenile drug addiction, mental retardation and childhood disability as they impact health and human services. Her life has been dedicated to helping disadvantaged people realize their best possible intellectual, physical and personal lives.
A key pursuit of Sharon's has been to "translate" the findings of psychological science into real-world applications and to shape public policy, mirroring UW Psychology's present focus on Serving Individuals and Society.
"My own 'last decade' of research falls under the area of translational science," explains Sharon. "I want to understand the principles that explain why we (from individuals to small and larger groups) are usually so poor at implementing what we know 'works'; and conversely, why we continue to implement things that we know don't work. It is amazing and disheartening to know that people could be so much better off than we are (based on scientific breakthroughs already) and yet we are not yet there! So congratulations to you for identifying a specialty in translational science within a psychology department!"
This was the second time in three years that UW Psychology has provided the Natural Sciences Distinguished Alumna: Nobel Prize recipient Dr. Linda Buck (B.S., 1975) was honored in 2005. n
Nicki Bush - 2006 West Coast Poverty Center Dissertation Fellowship (Child Clinical, advisor Liliana Lengua)
Renay Cleary - Student Research Award from APA Division 43, Family Psychology (Child Clinical, advisor Lynn Katz)
Melanie Colon - Mensa Education and Research Foundation Scholarship (Animal Behavior, advisor Mike Beecher)
Susan Faja – APA Dissertation Research Award (Child Clinical, advisor Geraldine Dawson)
Susanne Martin Herz - nominee for University of California San Francisco Chancellor's Award for Community Service. She is also co-founder of the House of Stone Charitable Organization (est. 2000) with her husband. This year they raised close to $30,000, held 4 educational events in the United States and funded small grants totaling over $17,000 to community-initiated and supported programs for orphans and vulnerable children in Zimbabwe. http://houseofstone.org (Child Clinical area, advisor Robert McMahon)
Erin Hunter – Huckabay Teaching Fellowship award (Child Clinical, advisor Lynn Katz)
Keren Lahavot - Fellowship Grant for Research at the University of Auckland, Maylon-Smith Scholarship Award from APA Division 44, APA Ethics Prize, Mensa Glen Horst Memorial Scholarship (Adult Clinical, advisor Jane Simoni)
Emily Neuhaus - Smadar Levin award for best poster presentation, the Society for Research in Psychopathology (Child Clinical, advisor Ted Beauchaine)
Debra Paulson - 2006 UW Excellence in Teaching Award (Animal Behavior, advisor Randy Kyes)
Jennifer Wang - Jacob K. Javits Fellowship , Society for Personality and Social Psychology student travel award (Social/Personality, advisor Janxin Leu)
Clara Wilkins – Ford Foundation Fellowship (Social/Personality, advisor Cheryl Kaiser)
Vivian Zayas – appointed Assistant Professor in Psychology at Cornell University, 2007 (2003 Ph.D.Social/Personality, 2003-2006 NIMH postdoctoral fellow, Yuichi Shoda, advisor)
2006-2007 Graduate Student Service Awards for consistant service to the department and graduate student community:
Erika Feldman (Developmental, advisor Jessica Sommerville)
Amy Guthormsen (Cognition/Perception; advisor Miriam Bassok)
Christopher Jones (Developmental advisors, Jim Sackett, and Ilene Schwartz in Special Education)
Heather Knapp (Cognition and Perception, advisor David Corina)
David Pantalone (Adult Clinical, advisor Jane Simoni)
Nicole Wilson (Social/Personality, advisor Yuichi Shoda)
Jean Yi (Adult Clinical, advisor Bill George)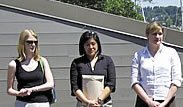 Nicole Wilson, Jean Yi,
and Erika Feldman
2006-2007 Psychology Distinguished Teaching Awards for Career-long contributions to teaching:
Angela Davis (Developmental, advisor Stephanie Carlson)
Erika Feldman (Developmental, advisor Jessica Sommerville)
Jenna Jung-Youn Lee (Social and Personality, advisor Yuichi Shoda)
Carissa Leeson (Animal Behavior, advisor Randy Kyes)
Nicole Wilson (Social/Personality, advisor Yuichi Shoda)
Jean Yi (Adult Clinical, advisor Bill George)
2006-2007 Alcor Endowed Scholarship Awards:
Sarah Bowen (Adult Clinical, advisor Alan Marlatt)
Erika Feldman (Developmental, advisor Jessica Sommerville)
Amy Guthormsen (Cognition/Perception; advisor Miriam Bassok)
Danielle Hessler (Developmental, advisor Lynn Katz)
Min Jung Kim (Behavioral Neuroscience, advisor Ilene Bernstein)
Jennifer Marsh (Animal Behavior, advisor James Ha)
Christeine Terry (Adult Clinical, advisor Robert Kohlenberg)
Anika Trancik (Child Clinical; advisor Lili Lengua)
Donna Whitsett (Social/Personality, advisor Yuichi Shoda)
Iris Zemach (Cognition/Perception; advisor John Palmer)
National Science Foundation Fellowships:
Mara Sedlins (Social/Personality, advisor Yuichi Shoda)
Kate Shannon (Child Clinical, advisor Ted Beauchaine)
NIH Kirschstein National Research Service Award predoctoral fellowships:
Michele Bedard (Adult Clinical, advisor Lori Zoellner)
Sharon Brenner (Child Clinical, advisor Ted Beauchaine)
Neharika Chawla (Adult Clinical, advisor Alan Marlatt)
Sheila Crowell (Child Clinical, advisor Ted Beauchaine)
Jeffrey Jaeger (Adult Clinical, advisor Lori Zoellner)
Ursula Whiteside (Adult Clinical, advisor Mary Larimer)
Christian Hendershot (Adult Clinical, advisor Bill George)
Ryoko Sheri Hiroi (Behavioral Neuroscience, advisor John Neumaier)
Richard Nobles (Child Clinical, advisor Ana Mari Cauce)
David Pantalone (Adult Clinical, advisor Jane Simoni)
Dellanira Valencia-Garcia (Adult Clinical, advisor Jane Simoni)
Briana Woods (Child Clinical, advisor Mary Larimer)
American Psychological Association travel awards:
Renay Cleary (Child Clinical, advisor Lynn Katz)
Ty Lostutter (Adult Clinical, advisor Mary Larimer)
Tami Rigterink (Developmental, advisor Lynn Katz)
Distinguished TA Awards 2007
Nicole Wilson, Jean Yi, and Erika Feldman