Chair's Message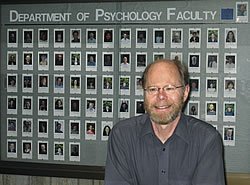 Steve Buck, Chair
In this issue, we'll introduce you to new faces among our faculty and new faces of our research, teaching, and service efforts. UW Psychology continues to evolve: new people and new pursuits are leading us in exciting new directions. The following pages profile some of these changes in who we are and what we do.
We've selected two of our new directions to profile in this issue. The first is our broad push into the rapidly developing areas of human neuroscience. We are truly the bridge between the biological and social approaches to the study of behavior. Faculty and students in every area of our department are interested in the biological substrate of behavior. We are at the forefront of a widespread extension of neuroscience into the study of all areas of human behavior, from social to developmental to cognitive to affective and clinical.
The second new direction is the increasingly international focus of our work in teaching, research, public health, and service. Faculty, staff, graduate students, and undergraduate students all play vital roles in these global efforts, which make clear how teaching and learning, research, and public service are intertwined to benefit humanity both across the street and around the planet.
We'll focus on other new directions and people in future issues but you don't have to wait to find out more about these many faces of UW Psychology, just go to our website, web.psych.washington.edu . If you live nearby, you'll find information about talks and events at which you can join us, such as the Allen Edwards Psychology Lectures (see page 10 of this issue). You can also let us know what you're doing, and find out how you can help support our programs. Alumni should check our new website for them at https://psych.uw.edu/alumni.