Spring 2008
Published: 03/29/2008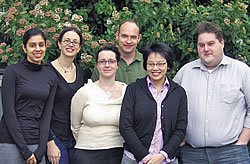 Sapna Cheryan, Cheryl Kaiser,
Ione Fine, Geoffrey Boynton,
Janxin Leu, and Kevin King
Sapna Cheryan joined the Social/Personality area in 2007 after receiving a Ph.D. from Stanford University.Her research interests include identity, stereotypes and prejudice. She is currently researching: 1) the strategies that people use to prove their group memberships to others, and 2) the power of stereotypical environments to determine who participates in them. Sapna received her Ph.D. in social psychology from Stanford University in June of 2007.
Cheryl Kaiser earned her Ph.D. from the University of Vermont in 2001 and joined the Social/Personality area in fall of 2006. Prior to joining us, she was postdoctoral fellow at the University of California, Santa Barbara and an assistant professor at Michigan State University. Her research interests include stigma, prejudice, self, identity, and stress and coping. She is also interested in the application of this research for law and legal processes. Dr. Kaiser's lab has received funding from the National Institute of Mental Health and the National Science Foundation, and she serves on the editorial boards of the Journal of
Personality and Social Psychology, Personality and Social Psychology Bulletin, and the British Journal of Social Psychology.
Ione Fine joined the Cognition/Perception area in 2007 from a faculty position at USC, after training at UCSD, University of Rochester, and Oxford University. Her research focuses on the role of experience in sensory processing. Past work includes measuring performance in patients who have been implanted with electrode retinal prostheses and examining learning in visual tasks in normally sighted individuals. Currently her research focuses on examining the effects of long term blindness on the brain (and the effects of sight recovery) using a combination of behavioral measurements and magnetic resonance imaging.
Geoffrey Boynton joined the Cognition/Perception area in 2007 from a faculty position at the Salk Institute for Biological Studies. He uses a combination of functional magnetic resonance imaging (fMRI) and behavioral measurements to study the relationship between neuronal responses in the visual cortex of the brain and our conscious visual experience. A major goal of his research is to understand where and how brain responses to unattended stimuli are suppressed. He is also interested in the relationship between performance on perceptual tasks and the topology of the cortical areas that represent the stimuli for those tasks. For example, he has recently shown, using fMRI, that people with better visual acuity have, on average, a larger area of the brain devoted to vision.
Janxin Leu joined the Social/Personality area in 2006, after postdoctoral work at Stanford University and a 2004 Ph.D from University of Michigan. As a cultural psychologist, she is interested in how the mind and culture are mutually constituted. She examines the relationship between culture, cognition, and emotion among US racial/ethnic minority groups, and in Japan and China. Her data suggest that the pursuit of feeling good in many US contexts supports representing pleasant and unpleasant feelings as opposites. In contrast, the pursuit of
emotion moderation in many East Asian contexts supports the co-occurrence of pleasant and unpleasant feelings. Dr. Leu uses these constructs to help explain the decline in mental health from first to second generation immigrants.
Kevin King joined the Child Clinical area in 2007 after receiving a Ph.D. from Arizona State University. His research focuses on how adolescents come to use alcohol and drugs and how that use progresses into substance abuse and dependence. He is particularly interested in the mechanisms by which these processes occur, specifically how family, social and personality factors inter-relate to produce risk for substance use and disorder. n