New Psychology Undergraduate Study Center Facilities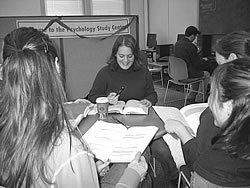 Undergraduate Study Center
The new Psychology Undergraduate Study Center, which opened in fall of 2004, is gaining popularity as a gathering place for psychology majors. Located across the street from Guthrie Hall, in Johnson Annex, the Study Center is dedicated exclusively to our undergraduate majors.
While providing an additional venue for students to meet with TAs, peer tutors, and study groups, the more casual atmosphere fosters a greater sense of community among psychology students. This sense of community, in turn, enhances students' engagement with the Psychology Department. "Because we are one of the largest undergraduate majors in a very large university, we need to work deliberately toward creating a kind of 'home base' for our students," says Academic Services Director Carrie Perrin.
Often, one of the most valuable learning tools is the opportunity for students to study with their peers--discussing assignments, working collaboratively, and sharing different perspectives.
Students can visit the Study Center at times convenient for their schedules.
Over the past year, a great deal of progress was made in creating a welcoming space for our psychology majors. The Center is now used for individual study, TA office hours, review and study sessions, Psi Chi meetings, and more casual events, such as "pizza lunch with the Chair."
The Center provides a meeting space for the Department's Preparing for Graduate School Support Group, monthly Transfer Advising Sessions, and Advising Office sponsored workshops, including: Study Abroad in the UK and Beyond, a Resume Workshop for Psychology Majors, and a CIA Employer Information Session.
The Study Center offers three computer workstations for student use, several small tables for studying, and a conference table for larger group meetings. Student, TA, and faculty response to the Study Center has been strong. "It's been terrific to finally have a place to meet up with other psych majors," said one senior, "it puts more of a 'friendly face' on the Department." n