Passion for Teaching Benefits Hopeful Psychology Majors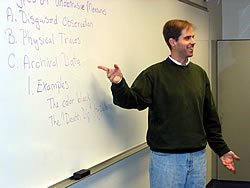 Don Christensen (Ph.D. Adult Clinical, 2000)
Don Christensen's graduate work in the UW's Adult Clinical Psychology program focussed on the relationship of psychological factors to athletic success. Under the mentorship of UW psychology professors Ron Smith and Frank Smoll, Don worked with minor league baseball teams in the Houston Astros farm system, and with golf teams in the Pac-10 Athletic Conference.
Today, you can find Don at Shoreline Community College, mentoring and enhancing the performance of students eager to make the cut for admission to the University of Washington. "Though I was trained as a clinical researcher," says Dons, "I found that I was more drawn to teaching and decided to see if I could make that my profession."
An early teaching assistant position for UW professor Michael Passer's Psychology 209 course may have sown the seeds for Don's eventual shift in career focus. "I learned a lot and really enjoyed watching Mike (Passer) teach," remembers Don, " he was very passionate about his teaching and I guess his passion was a little contagious." This passion for teaching was nurtured as Don progressed in his graduate education, eventually becoming the Department lead TA.
As an undergraduate, Don entered Stanford University on a golf scholarship, intending to pursue a degree in engineering. (An interesting side note is that Don's mother teaches engineering at Shoreline Community College and has an office just a few doors down from his.) While at Stanford, Don found himself drawn toward the study of psychology. Clearly the right fit, Don excelled as a psychology major, joining the honors program and being selected as an Academic All-American during his junior and senior years.
Today, Don's enthusiasm for the study of psychology and his love of teaching benefit local community college students, many of whom aspire to enter the UW's undergraduate psychology program. Since earning his Ph.D. in 2000, Don has taught throughout the Puget Sound region—at Highline, Shoreline and Tacoma community colleges, as well as the UW. Now a tenured faculty member at Shoreline, Don enjoys the relatively small class sizes and the ability to get to know his students. Don teaches a broad range of courses at Shoreline, including General Psychology, Biopsychology, Research Methods, Abnormal Psychology, and Personality, and has plans to develop a Human Performance Enhancement course.
While he still manages to fit in a bit of sport psychology consultation, working with individual athletes and presenting to groups, Don's primary professional focus is being teacher and mentor to his Shoreline students. He helps to provide them with a window on the UW and all that the Psychology Department has to offer—even encouraging especially motivated students to volunteer in Psychology Department labs. Like the athletes with whom he consults, these community college students benefit not only from Don's academic expertise, but also from his ability to help them find the motivation to strive for their personal best.