Graduate Student Accomplishments
TJoyce Yi - Awarded the Graduate School Dissertation Fellowship for use during the 05-06 school year.
Raphael Bernier - Awarded a Huckabay teaching Fellowship for use during the 2004-05 academic year.
Sharon Berry - Awarded Lizette Peterson-Homer Injury Prevention Grant from APA Division 54 and the American Psychological Foundation. ($1,000)
David Pantalone - Awarded Travel Grant for Quantitative Methods in the Social Sciences from UW's Center for Statistics and the Social Sciences.
Katie Witkiewitz, - Accepted tenure-track position in the Psychology Department, University of Illinois at Chicago.
Dorothy Mandell and advisor's research on how young primates learn about their world was featured in the Seattle P.I. on August 3. http://tinyurl.com/3k3ca
Janice Kuo was awarded a very competitive NIMH Predoctoral Fellowship for her project "Psychophysiology and Emotion Regulation in Borderline Personality Disorder." "Against daunting odds... Janice Kuo persisted in seeking this type of funding, and her exceptional abilities, incredible hard work and notable persistence has paid off, literally.
Erin Harley and advisor's research on identifying someone close up or at a distance is featured in the on-line University Week and will be in Psychonomic Bulletin & Review. (Erin recently earned her doctorate here and is now a post-doc at UCLA.) http://www.uweek.org/, click on "Witnesses' eyes deceive them when distance is too great."
Patricia Kuhl, Andrew Meltzoff, Daniel Bernstein, Maritza Rivera-Gaxiola, and Lindsay Klarman. Their work at Institute for Learning & Brain Sciences is the cover story of the Seattle Times' Pacific Northwest magazine. http://seattletimes.nwsource.com/pacificnw/2005/0306/cover.html
Sona Dimidgian will receive the APA 2005 Division 12 Student Research Award. She is in her 8th year and on her second year of clinical internship. Her advisor is Bob Kohlenberg.
Karen Toth received the 2005-06 Gatzert Child Welfare Fellowship for her dissertation research. Karen Toth is a PhC at the UW Autism Center. Her advisor is Geri Dawson, Child Clinical.
Sheila Crowell received the Lizette Peterson-Homer Injury Prevention Grant sponsored by Division 54 and the American Psychological Foundation. This grant supports research related to the prevention of injuries in children. Her advisors are Ted Beauchaine and Geri Dawson.
Michele Bedard whose NRSA -- Fragmentation and Disorganization in PTSD -- is being funded (on the first shot!). Michele is in Adult Clinical; her advisor is Lori Zoellner.
Mara Sedlines received a National Science Foundation Graduate Research Fellowship award. Mara is a second year student, working with Yuichi Shoda.
2005-2006 Psycholgy Graduates
Doctoral Degrees
Sona Dimidjian
(Robert Kohlenberg, advisor)
Kimberly Mallett
(Mary Larimer, advisor)
James McPartland
(Geraldine Daqson, advisor)
Mark Oaks
(Susan Joslyn, advisor)
Jacqueline Elzabeth Pickrell
(Elizabth Loftus, advisor)
Brandon Reeves
(Michael Beecher, advisor)
Anne R. Thissen-Roe
(Earl "Buz" Hunt, advisor)
Katie Witkiewitz
(G. Alan Marlatt, advisor)
Dan Kawika Yoshimoto
(John Gottman, advisor)
Distinguished TA Awards 2005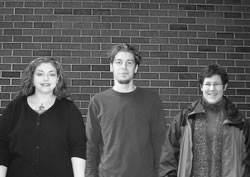 Dawn DeGere , Michael Perry, and Erin Hunter
Dawn DeGere, Erin Hunter, and Michael Perry, winners of the 2005 Department of Psychology Distinguished Teaching Awards for Graduate Students. Dawn DeGere is in Social/Personality; her advisor is Yuichi Shoda. Erin Hunter is in Child Clinical; her advisers are Lynn Fainsilber-Katz and Ted Beauchaine. Michael Perry is in Cognition and Perception; his advisor is John Miyamoto.
Master's Degree
Nichole Renee Bush
Kenyattqa Niobe Reid Etchison
Paige Andrea Keys
Rebekah Anne Skiver Thompson
2005 Alcor Award Winners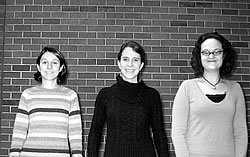 From Left to Right - Angela Davis, Kristen Stecher, and Carissa Leeson. Not pictured, Denise Davis, Anjali Kumar, Kristen Rytter, and Kari Stephens