Psych senior's new start, bright future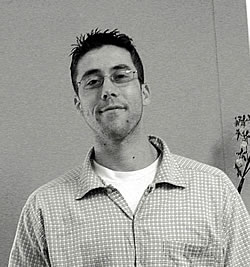 Brandon Stogsdill's earliest memory is of himself at four years old, sitting in front of his house and waiting excitedly for the school bus—but he was too young for school. Even at a very early age, Brandon envisioned a future that included education. Flash forward 13 years to a 17 year old Brandon, waking up on his first morning in prison.
A childhood and adolescence marked by his mother's substance abuse and mental illness, and by his own failure at school and subsequent descent into a life of violence had brought Brandon to a place that four year old certainly could not have imagined. Now entering his second year at the UW, with plans to major in psychology and business, Brandon is realizing his dreams, working to help kids avoid the path that he took—and telling his story.
Brandon earned his associate's degree, with honors, from Pierce Community College—completing most of his studies while in prison—and came to the UW with a Martin Honors Scholarship. Ironically, it was in prison that Brandon had his first experience of walking away from a fight.
"Using my intelligence got me through the experience and helped me to gain respect," he recalls. Academic success didn't come easily for him, but Brandon found that "the more I learned, the easier it became to learn."
This full-time UW student, who is the recipient of a Mary Gates Leadership Award, spends his "off" time working with kids whose lives he hopes to impact. In fact, Impact is the name of one of the two programs for low income, at-risk youth where he volunteers as a mentor. The program allows Brandon to combine his love of sports with his passion for working with kids who are desperately in need of positive role models and a safe, healthy outlet for their energy. While he admits that it was initially tough breaking through to these kids, the rewards have been tremendous. "I've not been let down once by any of these kids," says Brandon, "they've all opened up."
Long term plans for Brandon include pursuing an MBA and eventually a Ph.D. in psychology. His dream project is to develop a diversion program through the juvenile justice system designed to help at-risk youth assess the repercussions of their destructive actions before they end up "in the system." He would also like to open an extreme sports camp, using sports as a constructive alternative to risky behavior.
Brandon has a variety of projects in the wings, including authoring a book about his experiences, as well as working with another student on a program to take young people to visit prisons. The aim of that program is not to scare them, but rather to show the potential outcomes of their behavior.
"Every mistake, every poor choice I made, was a cry for help," says Brandon, "but nobody heard me." Brandon Stogsdill is listening. And he's telling his story.