The Department of Psychology welcomes professor Cheryl Kaiser as Chair!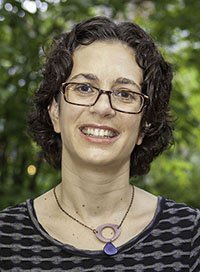 As of July 2017, Cheryl Kaiser now leads the Psychology Department as its new Chair. A twelve year veteran of the Department, she is also a fellow of the Association for Psychological Science, the Society for Experimental Social Psychology, the Society of Personality and Social Psychology, and the Society for the Psychological Study of Social Issues. She is a recipient of the Sage Young Scholars Award, the James McKeen Cattell Sabbatical Award, the Gordon Allport Intergroup Relations Prize, the Erskine Fellowship, and grants from the National Institute of Mental Health, the National Science Foundation, and the Russell Sage Foundation. She currently serves as Associate Editor at Journal of Personality and Social Psychology and on the executive committee of Society of Experimental Social Psychology.
In addition to her dedication to psychology research and teaching, Kaiser enjoys hiking, biking, reading fiction, and traveling with her family. A recent highlight was a month in New Zealand last summer when she was on fellowship at the University of Canterbury. She is proudly a 100% product of public education.
Kaiser's research interests include psychological aspects of prejudice, identity, and diversity, and the intersection of these topics with law and policy. When asked "Why social psychology?" she had this to say:
I am fascinated by the intersection of society with the mind and behavior. I am also intrigued by how our place in society and the groups we belong to can shape how we subjectively view social situations, and how different groups and people can see the same situation and walk away with disparate understandings of it. I am also compelled by the philosophy of Kurt Lewin, a Gestalt psychologist who fled Nazi Germany and came to the US where he founded social psychology. The Lewinian approach is characterized by theoretically derived rigorous psychological science on social issues that improves society. In my own work, I've explored how the psychology of bias can inform civil rights laws.
About her new role as Chair:
I look forward to representing and advocating on behalf of our exceptionally talented faculty and students. The scholarship coming out of our department is groundbreaking, with implications for some of the most important issues facing our region and the world. I'll be working to help increase our visibility, generate funds to advance our research and teaching mission, and further support the incredible talent we have in our department so we can advance our mission to promote healthy minds and society.
UW Psychology is celebrating 100 years of discovery as a department on campus. Kaiser holds strong visions for the department's future:
I don't like to predict the long term future, as there are too many unknowns and future discoveries that will change our course. When I think about the next decade, I envision a department whose scholarship will provide the world's most important insights into the brain and behavior, social inequity, and the optimization of human potential. We will also arm undergraduate students with the knowledge and critical thinking skills they need to be successful in a wide variety of careers so they can go on to leave their mark on the world. Our graduate students will go on to be thought leaders in science, and their work will shape the future of academia, industry, clinical practice, and society more broadly.